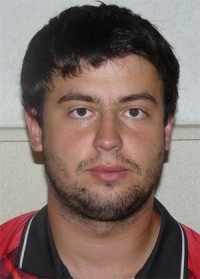 Mickael PETIOT
Entraineur
Mickael PETIOT (No. 300), Quentin SCAGLIA (No. 700) and Jeremy Mestre (14) are the new recruits of the club for 2014/2015.
Mickael, 26, who comes from Villeneuve sur Lot and he directed the training of the national group, will be a hit on a valuable piece for the club. He will soon return the responsibility for young groups (school TT and competition) and management of the national team.
Quentin, 17, who comes from Fréjus after 6 years in the hope of BOULOURIS pole, will be keen to revive after a fairly average season that saw him fall in the standings. Blame it on medical studies that are seen moving away from the gyms. He is a player with great potential that will surprise many! An investment in the future of the club.
Jeremy, 15, fugitive from Villeneuve Loubet, became defender last year… He probably found his way to climb the standings quickly and reach the national level.
The club is clearly playing the youth card to maintain its level in N2 and hope for a brighter future. All have played almost every day this summer, they will be ready for the start of the season. That's all we wish them!